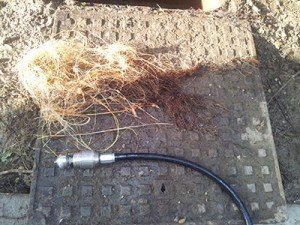 Are you in need of a root removal service? You have certainly come to the right place. Here at TSM Drainage we specialise in providing high quality root removal services to customers in Norwich and Norfolk. Using top of the range power equipment, we can blast through any type of root that may be blocking your drains.
Whilst trees, shrubs and plants make gardens look truly beautiful, their roots can cause major drainage problems if they infiltrate the pipes. Once inside, the roots thrive on the damp environment and continue to spread. In the worst-case scenario this can lead to pipework collapsing, resulting in expensive repairs. Root growth issues will only get worse, so we recommend dealing with them as soon as you start to notice a problem. Simply get in touch with the team here at TSM Drainage and we will send out one of engineers to perform CCTV surveillance. Using top of the range camera equipment, we can source the location of the problem and assess the damage. Providing that the root growth in your pipes has been caught early enough, we will be able to carry out a simple clearing service. This will involve using high-pressure drain jetting equipment that blasts the roots, breaks them down and removes the blockage. If however the damage has already been done, it is likely that you will require a new drainage system. Your engineer will be able to provide you with a full report, as well as guidance on costs and insurance. Next time you are planting a tree or plant in your garden, think about the location of your drains. Keeping your plants as far away from the pipework as possible will help to prevent the roots from infiltrating the system.
The benefits of using TSM Drainage Engineers
No matter how bad the damage is, we will provide a high quality solution that solves the problem and allows for continued use of your drains. After we have removed the roots from your pipes or replaced your pipework, we will take preventative measures to ensure that tree and plant roots will not be able to invade your system again.
Root removal from drains
Got a root growth problem? One of our engineers will pay you a visit and remove the blockage there and then. All of our engineers are required to carry drain jetting equipment in their vans, allowing our customers to benefit from a quick and efficient solution with little disturbance to their day. Our high powered jetting equipment provides the best way to remove tree roots as it cuts them up into small pieces and washes them away, rather than simply pushing them further into the system.
Repairing your drain
Although rare, if the roots have caused your pipework to collapse, our only option will be to extract it and replace it with a new system. In this circumstance we will do everything we can to get your new system connected up as quickly as possible to minimise disturbance to you and your family.
---
We provided drainage cover across Norfolk. We are a local family run business and aim to keep our charges competitive. We will look to beat any national companies quote for a like for like service. Give us a call today on 01603 280144 or 07827 016047
Areas covered include:  Attleborough, Aylsham, Belton, Brundall, Caister On Sea, Cromer, Dereham, Diss, Downham Market, Drayton, Fakenham, Great Yarmouth, Hemsby, Hellesdon, Hethersett, North Walsham, Norfolk, Norwich, Poringland, Sheringham, Stalham, Swaffham, Taverham, Thetford, Thorpe, Watton, Wymondham, Yarmouth
---
---
---
---
---
---
---
---
---
---