---
Think you are having problems with your drains? Unfortunately blockages are a common occurrence. Luckily for you, TSM Drainage provides first class drain unblocking services to domestic and commercial clients in and around Norwich and Norfolk.
We understand just how much of a pain blocked drains can be, which is why we provide quick and efficient drain unblocking services, causing you as little stress and frustration as possible! Our experienced engineers have years of experience unblocking drains and are equipped with the latest industry technology to ensure they can carry out the work to the highest standards.
Drains unblocked by TSM Drainage Engineers
If you are looking for a drainage company that can unblock your drains with minimal hassle and cost, look no further than TSM Drainage.
Dealing with flooding

There is nothing worse than when you come home after a long day at work only to find that sewage has flooded your home and garden. However all is not lost, as the team here at TSM Drainage are here to provide you with support and give you a hand in getting things back on track. Our engineers are all fully qualified and have years of experience dealing with blockages, overflows and floods. They also have access to a wide range of equipment so they can remedy the issue quickly and efficiently.
No job is too big or too small for our team. Our specialist drainage services are designed to provide quick, efficient and most importantly high quality solutions to all drainage problems.
Qualified and experienced drainage engineers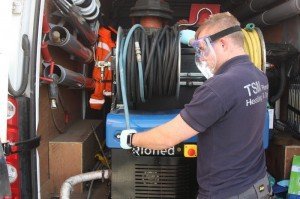 Whilst pouring fats, oils and grease down the sink can seem easier and more convenient that other disposal methods, these substances are actually the most common causes of drain blockages. Other common causes include objects getting trapped in pipes and lack of maintenance work.
Whatever the problem is, TSM Drainages' team of qualified engineers is here to fix it. Using tried and tested techniques, along with top of the range equipment; we will have your drains back to normal in no time at all.
In rare cases, drains may block as a result of something more serious like corrosion, root growth or subsidence. Unfortunately these structural problems only get worse and worse, so our advice is to get them fixed as soon as possible. Our engineers are experienced in repairing and resolving structural damage to drains and will take the necessary measures to ensure your pipes are secure for future use.
Trained and equipped
Our team of qualified and experienced engineers has dealt with all sorts of drainage problems; from those that require a simple jet clean to those that require CCTV examination and repairs. Whatever your drainage problem, you can have the peace of mind that our engineers have dealt with it before.
We understand the matter of urgency that comes with drain problems,  you can give us a call and we will send out one of our expert engineers to provide you with the best possible service.
Understandable, transparent prices
We believe in the importance of transparency, which is why we are upfront about all of our costs. TSM Drainage uses the most economical and efficient equipment on the market, helping to keep our prices low and our customers happy.
Safety is of a high priority
Of course there are potential health risks as a result of block drains, but with our help these can be minimised and removed. Not only will we unblock and clean your drains, but we will also take extra precautions to prevent further drainage problems occurring in the future. Using CCTV surveying, we can explore your entire drainage system and check for underlying issues.
Safety is our top priority and we will take every precaution to ensure that your drains are left in a safe and secure condition.
We provided drainage cover across Norfolk. We are a local family run business and aim to keep our charges competitive. We will look to beat any national companies quote for a like for like service. Give us a call today on 01603 280144 or 07827 016047
Areas covered include:  Attleborough, Aylsham, Belton, Brundall, Caister On Sea, Cromer, Dereham, Diss, Downham Market, Drayton, Fakenham, Great Yarmouth, Hemsby, Hellesdon, Hethersett, North Walsham, Norfolk, Norwich, Poringland, Sheringham, Stalham, Swaffham, Taverham, Thetford, Thorpe, Watton, Wymondham, Yarmouth
---
---
---
---
---
---
---
---
---
---